General Constructions of hospital environments
The consortium Optimus runs business in the medical field on the entire Italian territory, with the acquisition of orders such as "turnkey" for the construction of operating theaters, outpatient surgical wards to private clinics and similar.
Here are some of our greatest achievements in the "medical" field:
Nursing Home Villa Igea - refunctionalization operating block - Ancona
Nursing Home Lorenzo - regulatory compliance and widening operating block - Avezzano (AQ)
Radiosalus - construction of two surgical clinics and annexes - Grottammare (AP)
ASUR Wide Area 2 - running the new operating Hospital Carlo Urbani Jesi - Ati performed in Italian with Draeger and Olympus Italy
Nursing Home Lorenzo - Adjustment Regulatory and Technological Laboratory Analysis - Avezzano (AQ)
Nursing Home Dr. Marchetti - technical adjustment regulatory central medical gas, power plant - Macerata (MC)
Nursing home of Lorenzo - Maintenance and technological systems and remote management of the new operating systems contamination control (HVAC).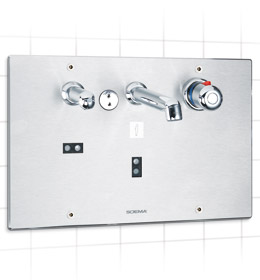 The above activities are carried out by the companies that make up the consortium, each for its specialization and its know-how.
The care and attention to the needs and demands of customers, have led companies of the Consortium to develop the ability to work in a highly coordinated way, as one team.
This synergy saves the customer the phases of organization, research and coordination necessary in complex activities and working with multiple types.
For this purpose, Optimus was developed in a "construction management operational" for internal coordination of the activities of companies and their separate technical units. This synergy, in constant connection with the customer, allows the creation and management in a fast and efficient way of a complex plan of coordinated activities which is associated with its works schedule .
All activities are managed by the consortium member companies, while the side activities are outsourced to selected companies with responsibility and confidence.
The consortium maintains the management and accountability of all phases of the contract in order to guarantee customers the absolute certainty of workmanlike in the work performed.
Strong experience gained in over 40 years in business, the companies of the consortium operate in peace and safety in the construction of heating, cooling, water and sanitation, medical gases, electrical and special, emergency and continuity.