Professionalism, expertise, innovation: these are the guidelines of the company. Technological know-how and many years of experience make Paolini & Balzani a partner capable of supporting companies and professionals in the construction of plants in industrial, hospital, commercial and large-scale distribution.
ELECTRICAL INSTALLATIONS
BUILDING MANAGEMENT SYSTEM
AIR CONDITIONING AND TREATMENT
TELEPHONE AND DATA TRANSMISSION
SAFETY
FIRE DETECTION
TV - SAT
SOLAR
Paolini & Balzani
+39 0712861553
+39.0712866501
info@paoliniebalzani.it
Via Primo Maggio, 26 60131 Ancona - Italy
Azienda certificata ISO 9001:2008

Building Management System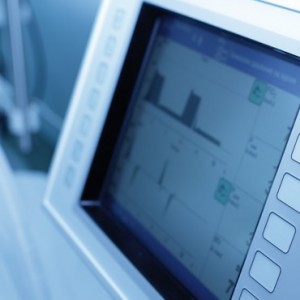 Paolini & Balzani, a TREND System Integrator certified company, designs, develops, installs and provides on-site and remote service and maintenance for control and regulation systems. These are oriented towards energy savings for all sectors, whether industrial, commercial, health-care or high-tech services.
What we can offer in terms of systems and solutions can provide the ideal technological basis for your systematic and continuous improvement in energy efficiency, with a consequent increase in your company's competitiveness and sustainability.
Energy efficiency now plays a fundamental and strategic role. We are able to offer different levels of service, to allow our customers to gain systematic knowledge of their own energy consumption, to identify optimal solutions for controlling and reducing energy flows, and to make service calls.
The advantage for the client is two-fold: reduction in energy costs and service from a single provider of consultancy, set-up and maintenance.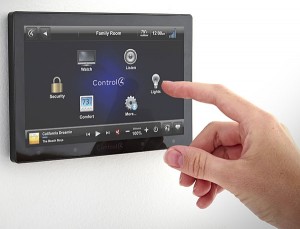 We design and build compact and large custom systems with high reliability, based on all major operating systems, for the control and management of residential and business systems and for process automation.
We create supervision and control systems (on-site and remote) of the latest generation, with man-machine interface and graphic rendering of the data, for the management of multiple elements:
Dehumidification machines
Power modulation control (inverter) for electric utilities
Accounting for energy
Photovoltaic
Geothermal
Special Systems
Brightness level control
Electrical load management
Refrigerated and frozen cells temperature control
Thermal oil circuits control
Compressed air circuit control
Empty Circuit control
Air-conditioning systems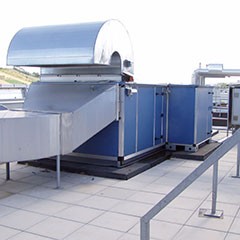 The technological excellence of direct expansion systems is utilized for HVAC, primary air treatment, air quality control and for hot water production for heating and for sanitation use.
Paolini & Balzani uses this technology in a range of system types, all of which are compatible with solar and photovoltaic components for energy production.
Paolini & Balzani develops and provides avant-garde systems solutions to create indoor environments which are perfectly climate controlled and where the ideal temperature and air quality are achieved thanks to sophisticated control mechanisms.
The company is backed by consolidated experience in designing systems which provide an optimal solution for commercial buildings, offices, hospitals and hotels.
Comfort, lower energy consumption and reduction of CO2 emissions are achievable even with a heat pump and recovery system that cools the indoor environment and produces hot water both for heating and for sanitation.
Electrical systems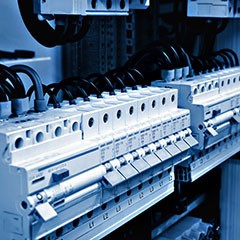 Ever since 1966 professionalism, experience and passion have always been Paolini & Balzani's keys to success in creating technological systems for the industrial, hospital, commercial, tertiary and large-scale retail sectors.
Design, efficient set-up, quality materials, new technologies, safety, and customer service are what can guarantee our clients dynamic, complete and efficient service for personalized quality solutions.
The company provides installation and maintenance of electrical systems for the distribution of electrical energy using cable trays, grounding and power factor correction systems, MT/BT electrical substations, energy continuity with UPS and generating sets, lighting systems, photovoltaic systems.
The company also installs LAN networks including checking the installation for code compliance and doing the paperwork required for certification.
Paolini & Balzani can also set up fire and smoke detection systems, entry phone/intercom and anti-intrusion systems for residential areas, businesses and industries.
BANKS
Banca D'Italia – Filiale di Torino
Banca di Credito Cooperativo – Filiale di Ancona
HOSPITALS
Ospedali Riuniti Umberto I - Ancona
Ospedale di Osimo (An)
Casa di Cura Villa Igea - Ancona
Ospedale di Jesi (AN)
Ospedale di Parma
Ospedale di Cagli (PU)
INTEGRATED WASTE MANAGEMENT
Il Quadrifoglio - Firenze
FACTORIES AND OFFICES
Mobilpref S.p.A.
Fiorini International S.p.A.
Grammer S.r.l.
Esinplast S.r.l.
Merloni S.p.A.
Marvit S.p.A.
I.R.MA. (Immobiliare Regione Marche)
TELEPHONY
Telecom Italia S.p.A.
Albacom
THEATRES AND MUSEUMS
Teatro di Civitanova Marche (MC)
Teatro di Osimo (AN)
Teatro di Bologna
Teatro di Chiaravalle (AN)
Teatro di Pergola (PU)
HOTEL - DISCO CLUBS
Hotel Beatrice - Sirolo (AN)
Hotel Roma & Pace - Ancona
Hotel Cruiser Congress - Pesaro
Club Med – Pizzo Calabro
Disco Pub Mamamia - Senigallia (AN)
MILITARY SITES
U.S. NAVY - centrale base NATO di Sigonella (CT)
STORES
Calzedonia
Intimissimi
Tezenis
Maxmara
Falconieri
LARGE SCALE DISTRIBUTION
large-scale retailer
Sma S.p.A.
Camst S.c.r.l.